MEITNER PA6i
PREAMPLIFIER WITH REMOTE CONTROL&nbsp &nbsp &nbsp updates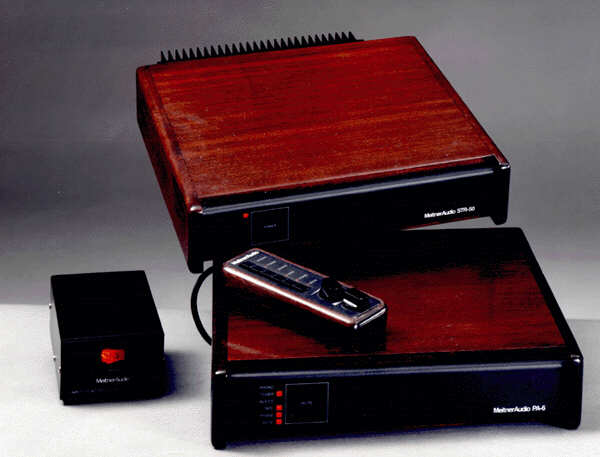 The PA6i may seem to be simply a preamplifier. It is not. It is the descendant of generations of PA6 preamplifiers. Each one a definitive step forward in the quest for excellence in musical reproduction.

The original PA6 pioneered state-of-the-art solid state control for volume, balance and switching of input sources while most designers were still learning mechanical controls. User changeable phono modules. Full remote control. Absolute phase inversion on the remote. Floating Charge Power Supply. Elegance of appearance.

These are hallmarks of the PA6 lineage. The PA6i of today achieves a level of listening experience that we would not have thought possible back then.

The PA6i is more than a preamplifier. It is the cornerstone of a comprehensive Meitner system. Individual components that may be matched with those of other manufacturers for superb results, but which together comprise a perfectionist system of unsurpassed sonic merit.
Design Features
Remote control (Wired or Infrared)
No mechanical switches or pots
Adjustable source levels
Interchangeable phono modules
Meitner Floating Charge Power Supply.
"Ramp" Mute for greater listener comfort.
Low output Impedance.
Extensive fault protection.
High parts quality.
Specifications
Phono Input Modules: Trans Impedance Interface (MC) and Constant Impedance Interface (MM).
Typical Phono Input Overload: 30 dB.
S/N Ratio: MC: 75 dB to 90 dB. MM: 80 dB to 100 dB. (A WTD).
RIAA Accuracy: 0.2 dB (RIAA timing capacitors are charge-biased and matched).
Tuner/Aux-CD Input: 500 mV Nominal. 33 K Ohms Input Impedance.
Tape Input: 100 K Ohms Input Impedance.
Frequency Bandwidth: 1 Hz to 100 KHz(+0, -3 dB).
Harmonic distortion: less than 0.01% (-80 dB) 20 Hz to 20 KHz at +10 dB output.
IM Distortion: less than 0.01%.
Line Input Overload: 26 dB REF to 500 mV input.
Line Input Signal/Noise Ratio: 96 dB (A WTD).
Output D.C. Offset: +/- 2 mV maximum.
Maximum Output Level: 8V Max. at rated THD into 600 Ohms.
Output Impedance: 47 Ohms.
Construction: Pure copper printed circuit board; No tin plating; class A design; gold plated connectors.
Power Supply: External, Regulated +/- 15v/300mA.
Power Consumption: 20 Watts.
Power Requirements:117V or 220V - 50 or 60 Hz.
Updates
The PLUS Upgrade: After years of mentally compiling a wish list of enhancements for the PA6i, Ed Meitner decided to put it all together as a package and call it the "PLUS" upgrade. This suite of modifications involves changes to:
The floating charge power supply, which now becomes a true choke-input filter.
The circuitry and signal path, which has been redefined and more thoroughly decoupled.
The grounding scheme, which has been made more direct.
Updates are performed on Meitner and Museatex products at our Calgary facility.
Email us at john@museatex.com or call (403) 968-1400 for more information.
The Meitner PA6i has been superseded by the A/V Control Center.